By Berger Montague PC.
Earlier this year, Florida-based health services company Halifax Health paid $85 million to settle allegations that it was engaged in a years-long kickback scheme in violation of the federal Stark Law. The settlement was one of the largest reported in Florida history; however, it did not work to settle the matter entirely. Following the historic Stark Law settlement, the company was still facing liability under the False Claims Act for overbilling Medicare to the tune of $73 million– and the courageous whistleblower was not backing down. Reportedly, Halifax has agreed to settle the case for $1 million– presumably to avoid the public dissemination of possibly disparaging information about the company's engagement in fraudulent activity against federal and Florida taxpayers.
Background of Case Against Halifax
At the time of its earlier settlement, Halifax was facing up to $1 billion in damages for its involvement in a kickback scheme with several oncologists. That was known as the "first half' of the case. The "second half," filed by former compliance director Elin Baklid-Kunz under the False Claims Act, alleges that Halifax worked to increase profit margins by "recklessly admitting patients" to its facility for expensive and allegedly unnecessary inpatient procedures at the cost of federal healthcare programs. According to her complaint, the relator asserts that she brought these issues to the attention of hospital executives, who turned a blind eye to the overbilling procedures.
Allegedly, Halifax admitted more than 21,000 patients for inpatient services that were likely not necessary– resulting in possible liability under the False Claims Act topping $73 million. This scheme continued from 2002 through 2013.
Alarmingly, the relator's case was almost derailed earlier this year when a Florida District Court judge ruled that Halifax's overbilling did not necessarily amount to "false claims." The judge relied on the notion that medical records and evidence were insufficient to conclude definitively that patients admitted for inpatient services were not in need of such services. It would therefore be too difficult to discern whether the services were truly medically necessary or not based on the record. Nonetheless, Halifax agreed to a $1 million settlement– which will be made official upon the approval by the District Court judge.
The federal government had until July 21st to review the settlement and raise any objections.
Report Healthcare Fraud Immediately
Halifax Hospital runs the risk of being booted from the Medicare program entirely. Its widespread and systemic practice of allegedly engaging in overbilling and kickback schemes has exposed it to close to $1 billion in possible liability under the False Claims Act. Nonetheless, this type of healthcare fraud continues to run rampant in the healthcare industry, and dozens of new cases are unveiled every month involving fraud against Medicare and Medicaid.
If you are aware of possible healthcare fraud and would like to report your findings under the False Claims Act, a whistleblower attorney can help you properly plead and argue your case.
Nov. 7, 2014
[]
____________________________________________________________________________________________
Halifax Health settles fraud case 2nd trial to go forward in July
By Marni Jameson, Orlando Sentinel. 
Halifax Hospital, serving the Daytona Beach Florida area, agreed on Monday to pay a record-setting settlement in a whistle-blower lawsuit that alleged more than a decade of illegal kickbacks to physicians and Medicare fraud.
Halifax and the U.S. Department of Justice reached the tentative agreement just as the jury trial was set to begin in Orlando federal court.
Though neither side would disclose the settlement amount until the deal was finalized, a source close to the case said the amount was $85 million.
And that's just for the first half of the case. Part two is set to go to trial in July.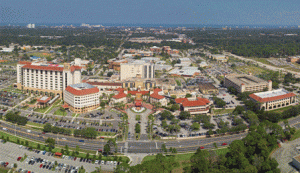 Though far less than the nearly $500 million the government was seeking, the $85 million payment is the largest amount ever paid for a violation of this kind in U.S. history, said Patrick Burns, co-executive director for Taxpayers Against Fraud, a national nonprofit in Washington that works to promote whistle-blower laws.
The "agreement in principle" requires that Halifax pay the settlement amount over a period of five years, plus attorneys' fees.
In addition, Halifax must agree to a corporate integrity and compliance program "to make sure that something like this doesn't happen in the future," said the court transcript.
The lawsuit was first filed in 2009 by Halifax Health employee Elin Baklid-Kunz, a former compliance officer for the 678-bed Daytona Beach hospital.
Baklid-Kunz stands to gain 15 percent to 25 percent of the award, experts say. The rest would go back to the government.
Before a jury was seated, U.S. District Judge Gregory Presnell agreed to the settlement. "A good settlement is always better than a bad trial," Presnell said.
In addressing the jury pool, Presnell said, "We were going to pick a jury. … It was going to be a very long, difficult case and [we were going to] begin a trial that would have endured probably the rest of the month. The good news is … the parties have reached a tentative settlement."
The parties are to file paperwork detailing the final terms of the settlement with the court in one week, which will make the deal final.
The hospital's legal trouble won't end there.
Because the suit is so large and complex, Presnell had previously agreed to split the case into two trials.
The first trial would have focused on allegations that payments made to six cancer doctors and three neurosurgeons violated the federal Stark law, which makes it illegal for doctors to financially benefit from referring patients for hospital care.
Such arrangements can lead to doctors admitting patients to the hospital and performing procedures that are not medically necessary, and then billing Medicare — or, in effect, taxpayers — for those services, legal experts say.
To date the largest amount ever paid in a Stark violation came from Tuomey Healthcare systems in South Carolina, which paid $39.3 million in Stark penalties, said Burns.
"This settlement amount is more than twice that," he said.
Last November, the U.S. government intervened in the Stark law portion of the case and took the lead in prosecuting.
The second trial will focus on allegations that for more than a decade the hospital made a practice of admitting patients to the hospital who didn't need to be admitted, then billing government payers — Medicare and Medicaid — for their care.
That part of the false claims case, which will be tried by private attorneys, could result in damages plus penalties of up to $400 million, according to whistle-blower attorney Marlan Wilbanks of Atlanta.
"We're free to go after them," said Wilbanks, meaning the government is not joining in part two of the case. "My work is not done."
Halifax Health has consistently denied all allegations.
In the courtroom Monday, Halifax general counsel Dave Davidson said he was pleased to have reached an agreement in principle. "It allows us to continue to provide valuable care to our community." Halifax Hospital is considered a safety net hospital in the Daytona area, meaning that it provides care for the poor and uninsured.
July 13, 2014
[]