At least 5,500 male plaintiffs from across the US have filed in Pennsylvania against J&J and its subsidiary Janssen alleging Risperadal caused them to grow female breasts.
By Brenda Craig, Lawyers and Settlements.
Philadelphia, PA. A ruling by three appeal court judges in Pennsylvania has turned the tables on Johnson & Johnson (J&J) and Janssen saying that some 5,500 Risperdal plaintiffs with cases consolidated in a state mass tort litigation have the right to pursue punitive damages.
A Pennsylvania appeals court says Risperdal plaintiffs with lawsuits filed against Johnson & Johnson (J&J) and its subsidiary can ask the courts to apply the law of their home states rather than be subject to the law where the case is being tried or the law of the defendant's home state of New Jersey. J&J is headquartered in New Jersey where punitive damages involving FDA approved drugs are barred.
A lower court ruled two years ago that the Pennsylvania court plaintiffs were not allowed to seek punitive damages because the pharmaceutical giant is headquartered in New Jersey where state law does not allow punitive damages to be awarded in lawsuits involving FDA approved drugs like Risperdal.
This new ruling on January 8, 2017 is a game changer, according to Risperdal plaintiffs' lawyer Stephen P. Sheller of Sheller P.C. Law in Philadelphia.
"This ruling makes a big difference to the Risperdal plaintiffs," says Sheller, "And it discloses the way a big corporation was protected by a state law that bars punitive damages."
Armed with this new ruling plaintiffs can now try to collect thousands of dollars more from the drug makers.
Among the cases where Sheller's firm will now return to the courtroom to seek punitive damages is the case of 23-year-old Timothy Stange from Wisconsin.
"In the Stange case we got a $500,000 verdict in compensatory damages. Under Wisconsin law, you are entitled to double the amount of the compensatory verdict or $200,000 whichever is more in a punitive case. The potential punitive damages are $1 million," says Sheller.
Sheller's client, Timothy Stange lived in Wisconsin where he was prescribed and used the drug.
As the Pennsylvania appeals court judge recounted in her opinion, as a 12-year-old boy Stange was given Risperdal as a treatment for Tourette's syndrome which manifests as uncontrollable repetitive moments or verbal outbursts. As a result of Risperdal use, Stange developed female breasts (gynecomastia). It was traumatic. The breasts were surgically removed in a double mastectomy in 2012 leaving him with both physical and emotional scars.
"You have to understand it completely screws up their endocrine system, they grow female breasts, it affects their testes, and it affects their fertility. All you have to do is look at what happens to a boy (or even a girl) who gets their endocrine system screwed up by excessive hormonal imbalance which is what this is," says veteran attorney Sheller.
Stange's case went to trial in 2015 and alleged J&J and Janssen had failed to adequately warn there was a risk of gynecomastia associated with the use of Risperdal. The jury agreed and found the companies were responsible for Timothy Stange's gynecomastia.
Because Johnson & Johnson has its head office in Titusville, New Jersey no punitive damages could be awarded to Stange.
"At the time of the Stange verdict the court said the company's principle place of business was New Jersey, and that New Jersey law would apply to any case across the country, no matter where the plaintiff was, and punitive damages were barred. Frankly that's dead wrong," says Sheller.
"The judge in 2015 would not allow us to take a sealed punitive verdict at the time of the trial so we still have to go back and try the cases on the issue of punitive damages. All that could have been avoided," he adds.
Including the 5,500 in Pennsylvania there are an estimated 20,000 Risperdal gynecomastia related cases pending in various jurisdictions across the country.
"This is a pivotal moment not just for Risperdal victims," says Sheller. "It is a pivotal moment for the country because it brings to the forefront what these companies are doing and now a superior court is speaking out about it."
J&J and Janssen have repeatedly said the risk of gynecomastia associated with Risperdal is minimal and that the anti-psychotic drug has helped millions of people control their lives.
Jan 12. 2018
______________________________________________________________________
Study Confirms Risperdal Link to Gynecomastia
By Brenda Craig, Lawyers and Settlements.com.
Orlando, FL: – An important study done by a team of researchers from the University of British Columbia (UBC) in Vancouver, Canada, and presented for the first time at a conference in Florida, confirms a clear link between the use of the widely used antipsychotic drug Risperdal and breast enlargement in men, or gynecomastia."If we put this study in context with everything else we know, we can definitely say there is a strong association between the use of Risperdal and gynecomastia," says Dr. Mahyar Etminan, a UBC epidemiologist and lead researcher in the independent study.
"We know from case reports that Risperdal has the highest number of cases of reported gynecomastia and this study completes the puzzle."
Using the information from a US health claims database of approximately one million men, Dr. Etminan's team found that Risperdal users had a 69 percent higher risk of developing gynecomastia than non-Risperdal users. The data was presented at the American Association for Geriatric Psychiatry (AAGP) conference on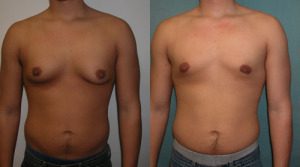 March 15, in Orlando. The UBC study is the largest and first study of its kind. Although the subjects in this study were older men, Dr. Etminan believes that gynecomastia connected to the use of Risperdal can also occur in younger boys.
Animal studies, done in the past, have demonstrated the pharmacological action of the drug and its powerful effect on neurotransmitters in the brain. "It is basically the strongest drug in terms of blocking dopamine receptors, and which in turn increases prolactin. That's what we think causes the gynecomastia. We know the pharmacology that leads to the breast enlargement is there."
The makers of Risperdal, Janssen Pharmaceuticals, a subsidiary of Johnson and Johnson, is the target of approximately 200 lawsuits in the US and Canada that claim the drug causes gynecomastia and other endocrine complications, including weight gain, damage to sexual function and diabetes.
Risperdal is used to treat schizophrenia and bipolar disorders in adults and adolescents. Last fall, the pharmaceutical giant was ordered to pay $2.2 billion in damages for civil and criminal liability for hiding dangerous side effects, and pursuing an aggressive marketing campaign designed to expand the use of Risperdal off-label to patient groups with Alzheimer's and dementia.
Dr. Etminan's team at UBC will now focus on learning more about Risperdal's effects in young male adolescents. "The drug company says that young boys develop gynecomastia because they are going through puberty, but we do not think this is the case," says Dr. Etminan in an exclusive interview with LAS from Orlando.
"We are drug safety researchers. We don't have a speciality. We look at any drug class where there may be problems. There were case reports that alerted us to possible problems about Risperdal and that is why we began looking at it," Dr. Etminan adds.
In addition to further Risperdal studies, the Etminan team is also turning its scientific attention to the controversial use of testosterone creams to enhance male libido and sexual function.