From Consumerreports.org. 
Many people are aware that visiting a hospital can put their health at risk in a number of ways. But even a patient who knows what to look out for and which precautions to take may not be doing enough to truly safeguard their health, since some U.S. hospitals might not be up to basic standards.
Consumer Reports on Thursday released an updated report that scores the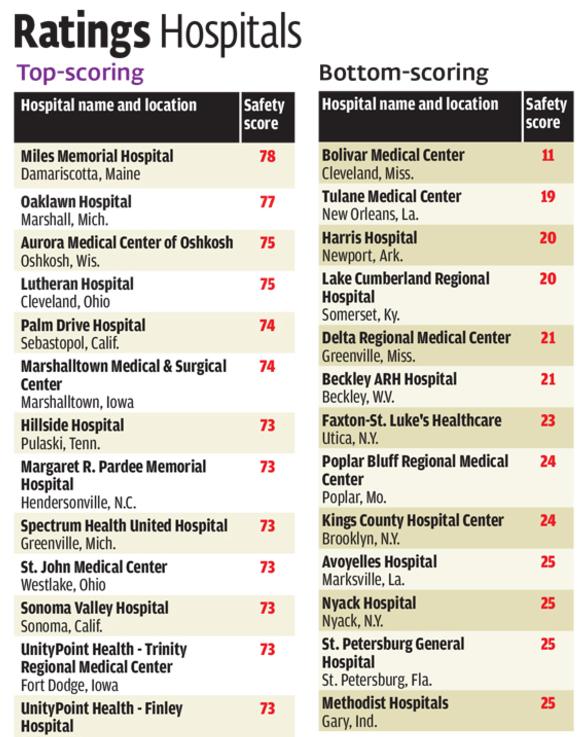 safety of 2,591 U.S. hospitals. Out of a general rating of 100, the average score for hospitals was just 51 — and 43 hospitals ranked below 30.
The report is based on the most recent available data from the Centers for Medicare & Medicaid Services and the Centers for Disease Control and Prevention. Each hospital is rated in five categories: mortality (death rates), readmissions, overuse of CT scans, hospital-acquired infection rates and ease of communication among health care staff and patients.
"Higher-rated hospitals have lower death rates, have lower readmission rates, they have lower rates of hospital-acquired infections," Doris Peter, director of the Health Ratings Center at Consumer Reports, told CBS News. "So all the things that you don't want to happen to you are, in general, lower in those hospitals."
Miles Memorial Hospital in Damariscotta, Maine and Oaklawn Hospital in Marshall, Mich., were among the top-rated hospitals with safety scores of 78 and 77, respectively. Bolivar Medical Center in Cleveland, Miss. earned a general score of only 11 to be the lowest-ranked hospital, while Tulane Medical Center in New Orleans, La. scored second on the bottom rung with a safety score of 19. The average score for hospitals is just 51, and 43 hospitals got a score below 30. "It is unacceptable that so many hospitals are doing so poorly," John Santa, M.D., medical director of Consumer Reports Health, said. "Especially since our Ratings show that some hospitals can do a good job at keeping patients safe."
The report suggests that for every 1,000 surgical patients who develop serious complications in a top-rated hospital, an average of 87 or fewer people die. However, in the low-scoring hospitals more than 132 out of 1,000 surgical patients die, according to Consumer Reports' estimates.
The Centers for Disease Control and Prevention published two reports on the prevalence of hospital-associated infections. One of the reports, published in the New England Journal of Medicine, found in 2011 alone there were approximately 721,800 infections in 648,000 patients. Around 75,000 of these patients died that year as a result of a health care-associated infection.
What we found
Our analysis uses two measures of hospital mortality, both using information from the Centers for Medicare & Medicaid Services—the most recent, reliable, and comprehensive data publicly available—on patients 65 and older. The first focuses on hospital patients admitted with medical conditions, such as heart problems; the second, on surgery patients.
Medical patients
This is based on the chance that a patient who has had a heart attack or been diagnosed with heart failure or pneumonia will die within 30 days of entering the hospital. Only 35 hospitals nationwide earned a top rating in the measure. By comparison, 66 hospitals got our lowest rating.
"The differences between high-scoring hospitals and low-scoring ones can be a matter of life and death," says John Santa, M.D., medical director of Consumer Reports Health. For example, pneumonia patients at Cedars-Sinai Medical Center in Los Angeles, which earned a top rating in this measure, had a 7 percent chance of dying within 30 days. That compares with a 22 percent chance of death for similar patients at Delano Regional Medical Center, 2 hours north in Delano, Calif. Overall, pneumonia patients in top-scoring hospitals are at least 40 percent less likely to die within 30 days of admission than similar patients in low-scoring hospitals.
Surgical patients
This looks at surgery patients who had serious but treatable complications—such as blood clots in the legs or lungs, or cardiac arrest—and died in the hospital. More hospitals did well in this measure, with 173 earning a top rating. By comparison, 228 hospitals got our lowest rating. And again, the differences between high- and low-scoring hospitals are dramatic: For every 1,000 patients who develop serious complications in a top hospital, 87 or fewer die; in a low-rated hospital, more than 132 die. Patients in top-rated hospitals are at least 34 percent less likely to die than similar patients in low-rated hospitals.
High- and low-scoring hospitals
Seven hospitals in the country earned a top Rating in both medical mortality and surgical mortality (listed alphabetically):
NYU Langone Medical Center, New York City
Olympia Medical Center, Los Angeles
Presence Saint Joseph Hospital, Chicago
Providence Hospital, Southfield, Mich.
South Pointe Hospital, Warrensville Heights, Ohio
St. Alexius Medical Center, Hoffman Estates, Ill.
UPMC McKeesport, McKesport, Penn.
Three hospitals got our lowest score in both measures (listed alphabetically):
Conway Regional Medical Center, Conway, Ark.
Highland Hospital of Rochester, Rochester, N.Y.
Lake Cumberland Regional Hospital, Somerset, Ky.
Note that hospitals may have done better or worse on other performance measures.
Staying alive
Why do some hospitals do a better job than others at keeping patients alive? "Likely because they do a lot of things—some little, some big—well," Santa says. "That includes everything from making sure staff communicates clearly with patients about medications, which can help prevent drug errors, to doing all they can to prevent hospital-acquired infections."
That's what they've done at Sanford Medical Center, at the University of South Dakota in Sioux Falls. It earned the highest safety score of any teaching hospital in the country and also got a top rating in avoiding death in surgical patients. The hospital instituted strict protocols for hand washing, says Mike Wilde, M.D., chief medical officer at Sanford, as well as for inserting and removing urinary catheters and central-line catheters, which provide drugs, fluids, and nutrition to patients. Those are two of the most common and deadly causes of infections in hospitals.
Accountability is also key. "It's easy to blame a provider, but a lot of times it can be the systems in place," Wilde says. So the staff now examines whether errors stem from a poorly functioning device or a failure to follow a safety protocol.
When a patient does die from a preventable error, there should be a thorough examination of why and steps taken to prevent similar errors in the future. "I want to know if someone dies on my watch or after they have left my watch, why they died, and how the death might have been prevented," says Don Goldmann, M.D., chief medical and scientific officer of the nonprofit Institute for Healthcare Improvement.
That kind of soul searching can yield better care. In 2006, the University of Pennsylvania Health System established a Mortality Review Committee. One program they came up with focused on detecting sepsis, a bloodstream infection, and starting timely and appropriate antibiotic treatment. Survival rates of hospital patients with severe sepsis rose from 40 percent to 56 percent. And survival rates from septic shock, which occurs when the infection causes blood pressure to plummet, rose from 42 percent to 54 percent.
What you can do
"Informed, active patients and family members are the best defense against hospital errors," James says. Lisa McGiffert, head of the Consumer Reports Safe Patient Project, agrees. Here are three of the most important steps she says patients should take to stay safe in the hospital:
Have a friend or family member with you to be your advocate when you are unable to speak up for yourself.
Before a planned hospitalization, do your homework. Learn as much as you can about what to expect while at the hospital, and ask about your treatments, especially medications or tests.
If something goes wrong, keep a journal documenting what is happening.
March 2014
Editor: See the latest hospital ratings.